INSTRUMEN PENGUKURAN LITERASI KESEHATAN ORAL
Abstract
Latar belakang: Pengukuran literasi kesehatan individu dimaksudkan untuk mengevaluasi potensi
resiko terhadap kesehatan umum maupun kesehatan oral. Tujuan : Tujuan dari penelitian ini adalah
untuk mengetahui validitas dan reliabilitas berbagai instrumen untuk mengukur Literasi Kesehatan
Oral yang ada saat ini.Metode: yang digunakan dalam penulisan artikel ini adalah Narrative review,
yaitu suatu penelusuran literatur yang diterbitkan dalam 10 tahun terakhir yang menggunakan
berbagai data base yang ada Pubmed, Springer, Proquest, Science Direct, Google Scholar, 24 literatur
digunakan dalam penelitian ini Hasil: Instrumen yang umum digunakan adalah: Rapid Estimate of
Adult Literacy in Dentistry-30 (REALD-30); Rapid Estimate of Adult Literacy in Dentistry-99 (REALD99); Test of Functional Health Literacy in Dentistry (ToFHLiD); dan Oral Health Literacy Instrument
(OHLI), CMOK, Health Literacy in Dentistry (HeLD) dengan berbagai struktur serta menilai
kemampuan dalam hal literasi. Kesimpulan: Berbagai instrumen pengukuran Literasi Kesehatan
Oral yang telah dikembangkan, digunakan diberbagai negara dengan proses cross cultural adaptation
dan digunakan pada beragam populasi dan berbagai kelompok usia, menunjukkan instrumen yang
valid dan reliabel.
katakunci: kesehatan mulut; literasi kesehatan; adaptasi lintas budaya, reliabilitas, validitas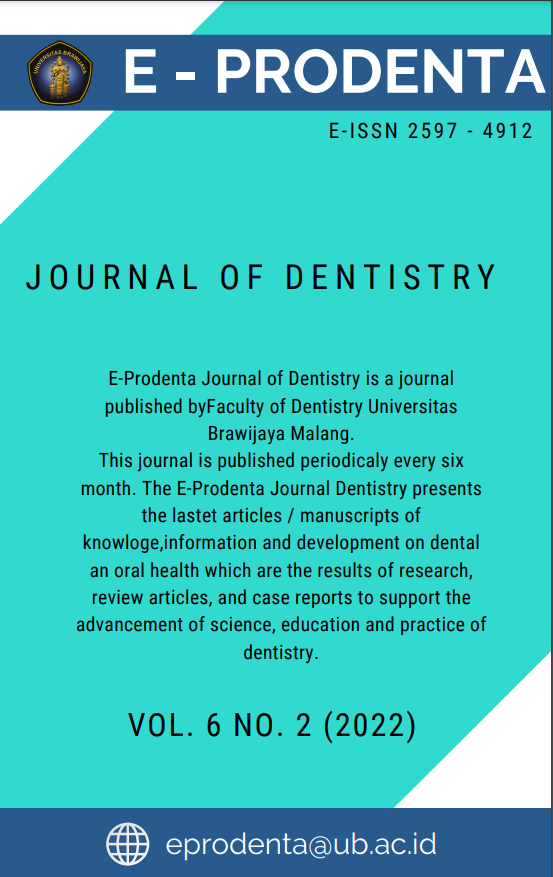 Downloads
License
This work is licensed under a Creative Commons Attribution-ShareAlike 4.0 International License.
E-Prodenta Journal of Dentistry receives original texts that have not been published in any media in any language, or are being sent to other journals at the same time. If the manuscript has already been presented in a particular symposium or seminar, then it should be written in the description. The submission of the manuscript shall be accompanied by a statement of authenticity of writing and unpublished statements made and signed by the first author. When the manuscript is accepted for publication, the authors agree to automatic transfer of the copyright to the publisher.